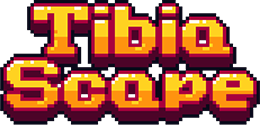 Players Online
254
Server Save
XX:YY
TibiaScape Rules
Server Rules
In order to provide fair and fun gameplay for everyone we created a set of Game Rules.
Cheating

Bug abusing:
Players are not allowed to use any 'bugs' that is clearly a broken mechanic that gives you an advantage. If you are unsure, always ask a staff member first.


Cheating
Players are not allowed to use any type of ('macro'), ('bot'), ('tasker') or any other type of ('software') to automate your gameplay, included dropping a stone on your keyboard to press a key, is not allowed.


Hacking
Attempting to steal other Players' account data, personal data, or any other sensitive data is strictly forbidden. That includes, but is not limited to, spreading links meant to trick other Players into submitting their credentials or downloading malicious software, or attempting to brute-force access to any Services.


Multi-clienting
Each Human/Player can only have 2 characters online per server.


Violation Rules
Breaking any of the above rules will result in ban.



Offensive Statements

Racism
Naturally, statements made to insult or mock a certain country or its inhabitants are not tolerated in TibiaScape. The same goes of course calling out racist or homophobic slurs against others or a certain nation or ethnic groups


Spamming
You are not allowed to spam irrelevancy.


Illegal Trading
You are not allowed to trade characters, accounts, items for real money in TibiaScape or in TibiaScape discord. If an account is sold outside of TibiaScape, we do not offer any support in this case. However, you are allowed to advertise your bazaar auction in our trade channel in discord and in-game trade chat, if its active.


Illegal Advertisement
You are not allowed to advertise not related to TibiaScape in-game or in our Discord anything not related to TibiaScape (eg. other server launches, special offers etc)





Names

Offensive Names that are insulting, racist, sexually related, drug-related, harassing or generally objectionable is not allowed. May result in ban.
Name Containing forbidden advertising is not allowed
Unsuitable Name, that express religious or political views, TibiaScape staff members is not allowed
Names Supporting Rule Violation, is not allowed.



TibiaScape

Pretending to have influence of TibiaScape Staff
You must not, at any time, pretend to be a member of the TibiaScape team or to have their legitimation or powers, particularly if done to threaten or trick other players..


Slandering or Agitating against TibiaScape
Publishing clearly wrong information or hate towards our service, trying to start boycotts against our server will not be tolerated and may lead to a punishment of your account.


False report to Gamemaster
A ticket system has been made inside our game-client CTRL+R, abuse of this will or may lead to temporarly or permanent banishment, if no evidence is enough to be provided within your report.





Destructive behavior

We reserve the right to stop any inappropriate behavior that was not mentioned specifically, especially actions intended to harm TibiaScape and/or its Gamemasters, Staff, or violating the law.



Non-PvP Abuse

TibiaScape uses a PvP/No-PvP system on the same server, which if not taken seriously will result in banishment of players account. You are not allowed to create a No-PvP character to solely distrupt other players experience (eg. stealing lootbags with no-pvp shield on the character or just walking into other players spawn.) This way of playing Tibia only works if there is respect between the players. Clarification: Each situation is individually handled by Staff and Gamemaster or Admin have the right to ban anyone we think is trolling.



Disclaimer for Rule Violations or Toxic Behaviour

The Staff of TibiaScape (eg. Admins or Gamemasters) have the right to ban anyone for any reason not following the rules above or seen in reports or live that their behaviour is not appropiate for the server and Staff does have the right to ban anyone even if reason not specified above permanently.